Happy September 1! All aboard, the Hogwarts Express leaves at 11 o'clock. In celebration of my love for Harry Potter, today's post is all about our recent trip to the Wizarding World of Harry Potter.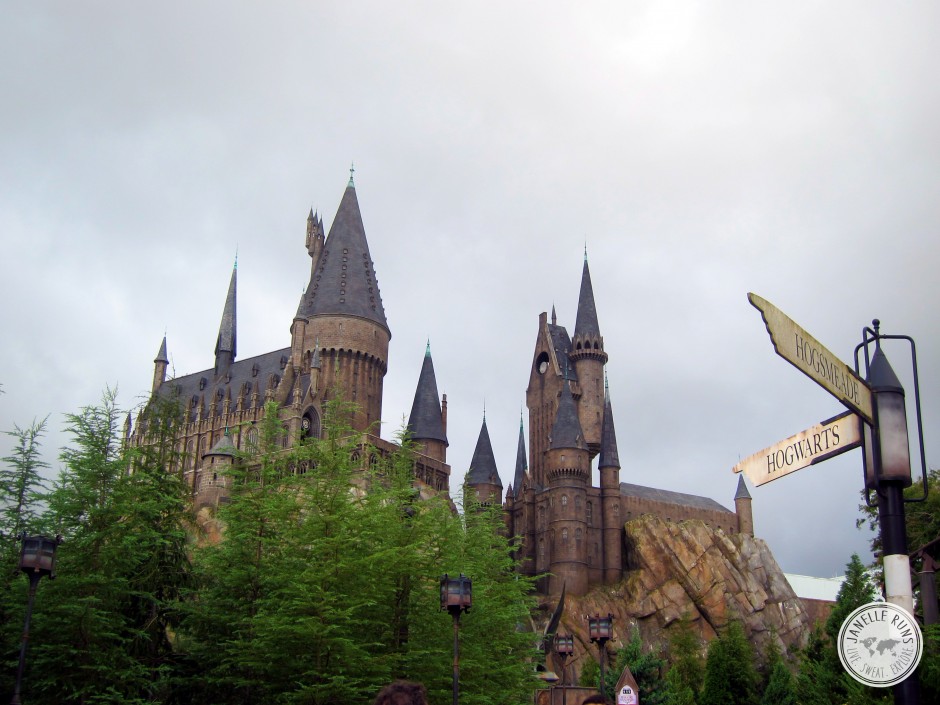 As promised here is my detailed post about visiting the Wizarding World of Harry Potter. Prior to our trip, like always, I scoured the internet for details about entering the magical universe of Harry Potter. I found some good info but most of it was outdated and did not reflect the newest park addition, Diagon Alley. So in an effort to help my fellow muggles, here is my detailed guide to a magically perfect day at the Wizarding World of Harry Potter!
The Wizarding World of Harry Potter from c0achkay on Vimeo.
Pre-Trip: Purchase Harry Potter gear + Buy tickets online
If you are able, definitely buy tickets online. The price is the same at the gate but the lines can be long and the ticket salesmen(women) try to get the upsale so it takes forever! And of course you buy some Harry Potter gear (if you do not already have some or want an excuse for some new stuff). Before the trip I bought a few items: a shirt, a tank, Deathly Hollow earrings, and snitch earrings. Since coming home I found a robe on eBay that I wish I would have seen earlier.
Early in the Am: Start your day early + Go to whatever park opens earliest first! 
We arrived right at eight, when the gates open, but had to wait about 15 minutes to get our tickets. Initially, I was determined to follow Harry's steps by first going to Diagon Alley and then taking the Hogwarts Express to Hogsmeade. But Islands of Adventure (Hogsmeade) opened an hour earlier than Studios (Diagon Alley) so we decided that an extra hour was more important than being just like Harry. When you are paying $150/ticket, an hour is worth a lot of money! As soon as we had our tickets in hand we raced through Suess Landing and the Lost Continent to enter Hogsmeade!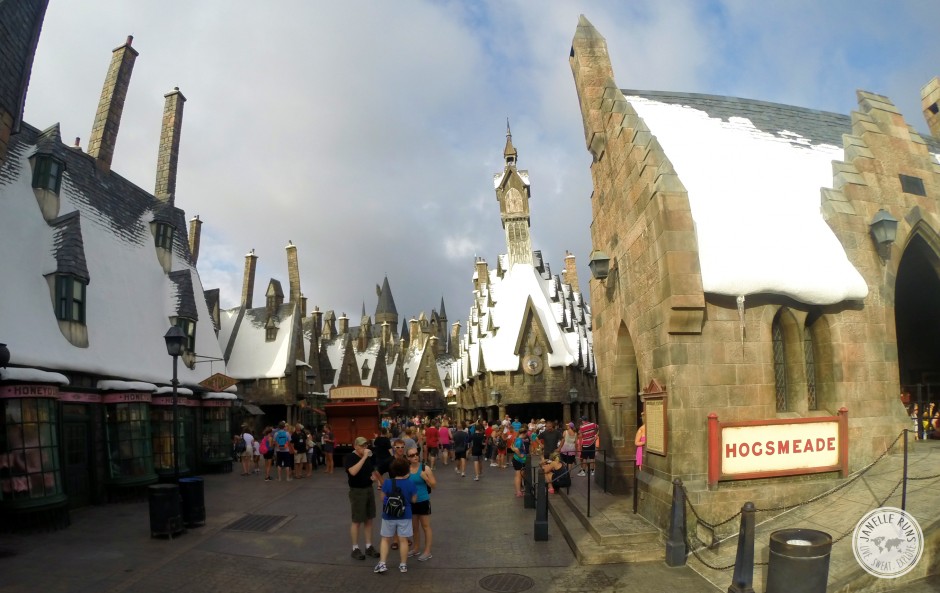 8:20ish: Hogsmeade
Once we made it to Hogsmeade our goal was to wonder around until the Hogwarts Express opened and we could go over to Diagon Alley (where most of the crowds and lines would be). The first thing I did was take a photo in front of the Hogwarts Express with the train conductor. Then we rode the Dragon Challenge Ride. The wait was only 5 minutes long and we were excited to get a ride under our belt.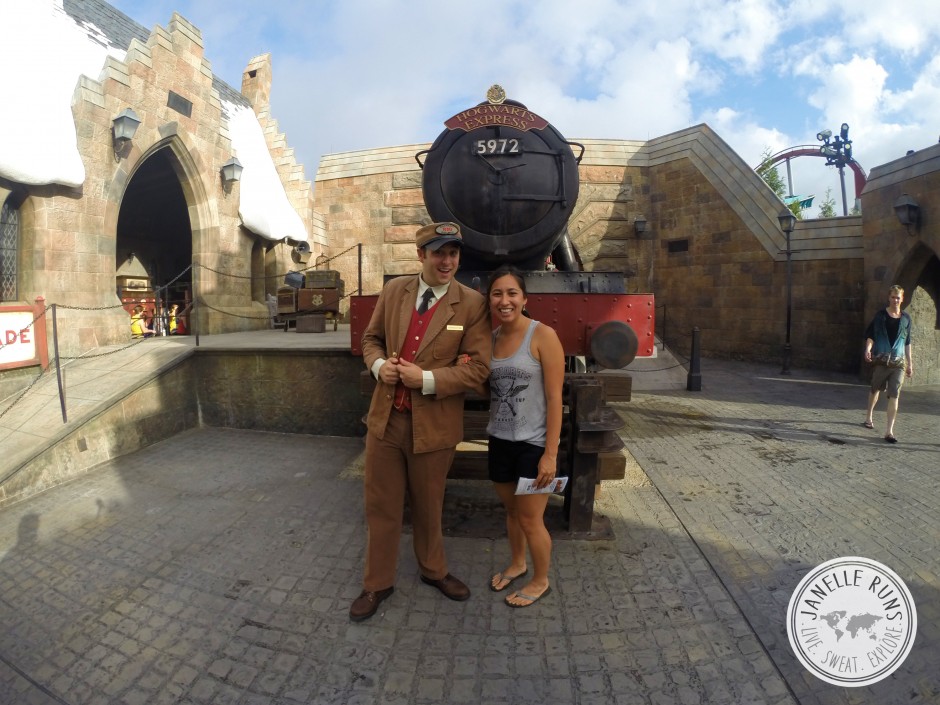 8:50ish: Hogsmeade Station
After our first ride we were off to Diagon Alley. We got in line a little bit before nine (Diagon Alley opened at nine) and once the Hogwarts Express starting transporting people, the line moved fast and we were off. Once we arrived at Kings Cross we had to wait in a quick-moving line for 15-20 minutes. At the end of the line we entered London…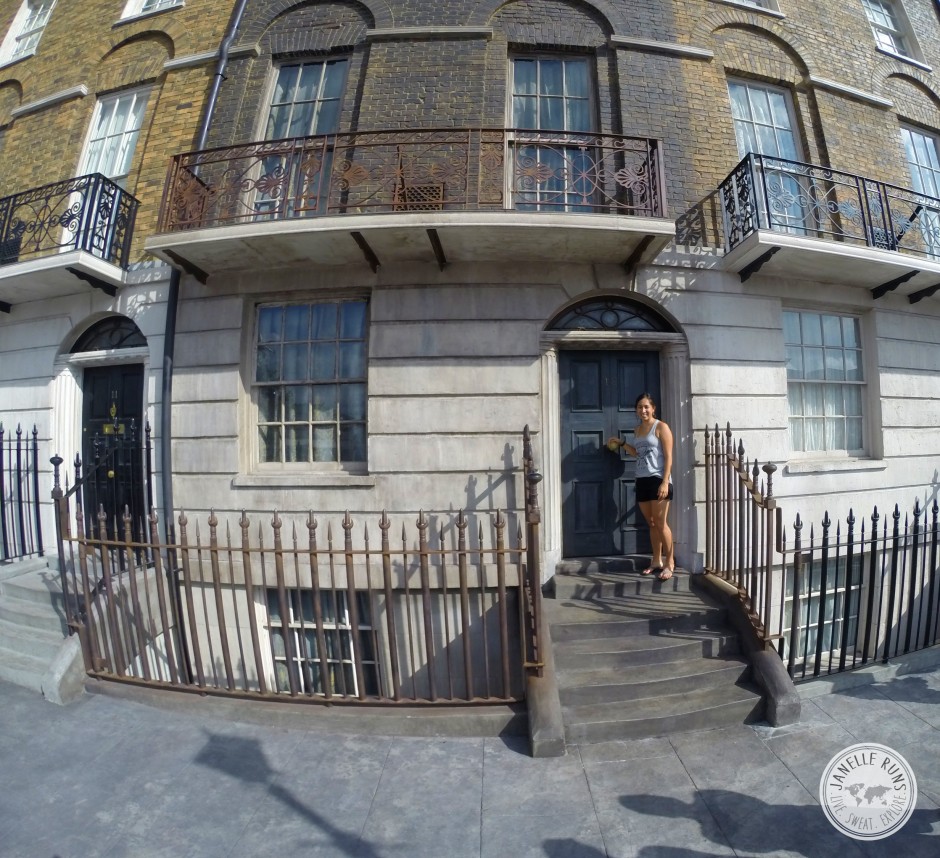 Directly on your left is 12 Grimmauld Place, you can even see Kreacher peeking out the window.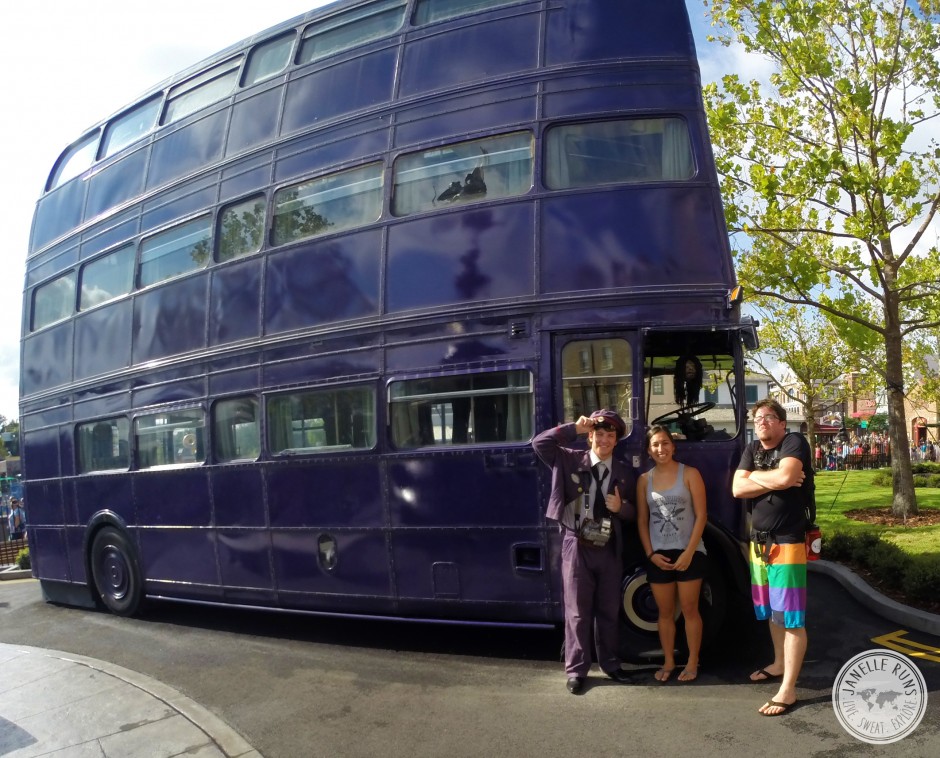 And of course the Knight Bus!
After wandering through the London street front, we wondered through a brick wall and entered Diagon Alley! What an amazing moment, I only wished we actually walked through the Leaky Cauldron to enter the magical world. Words cannot really describe how amazing it is to step into Diagon Alley!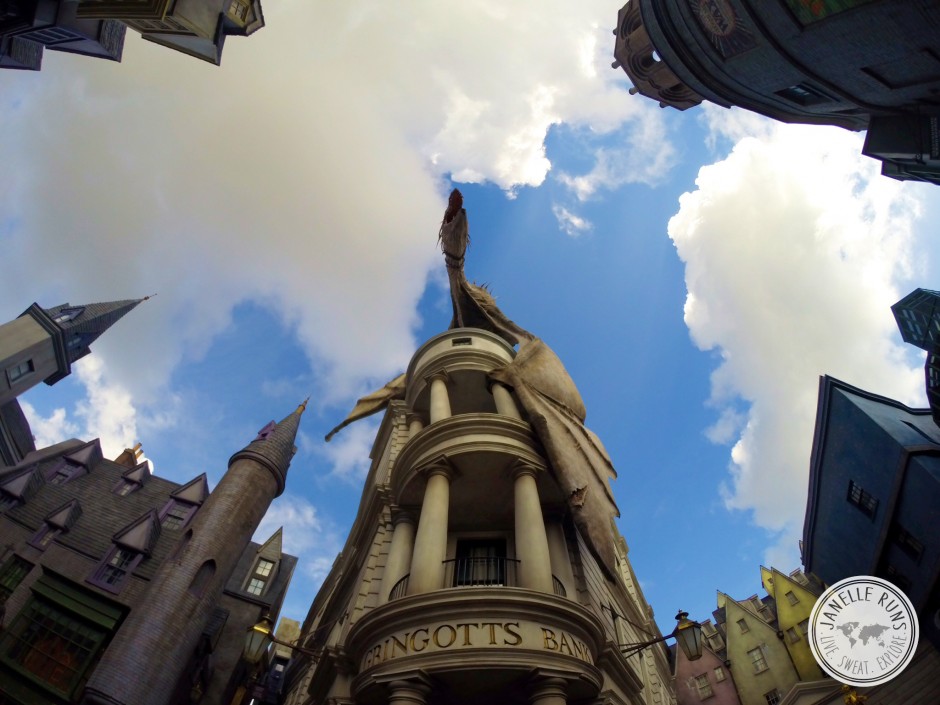 Gringotts Bank, the focal point of Diagon Alley. Sadly the dragon was not breathing fire:(
9:30ish – Lunch: Explored Diagon Alley
The authenticity is incredible and I could have wondered in each store for hours. We went into every shop, enjoyed delicious frozen Butterbeer, listened to Celestina Warbeck, and then wandered some more.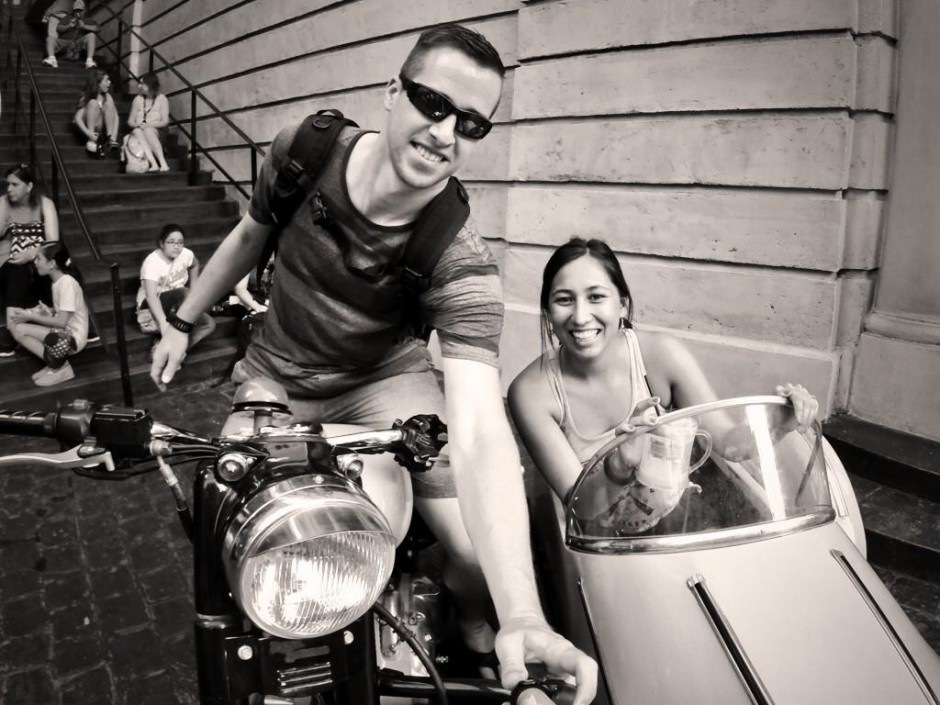 We rode Sirius' motorbike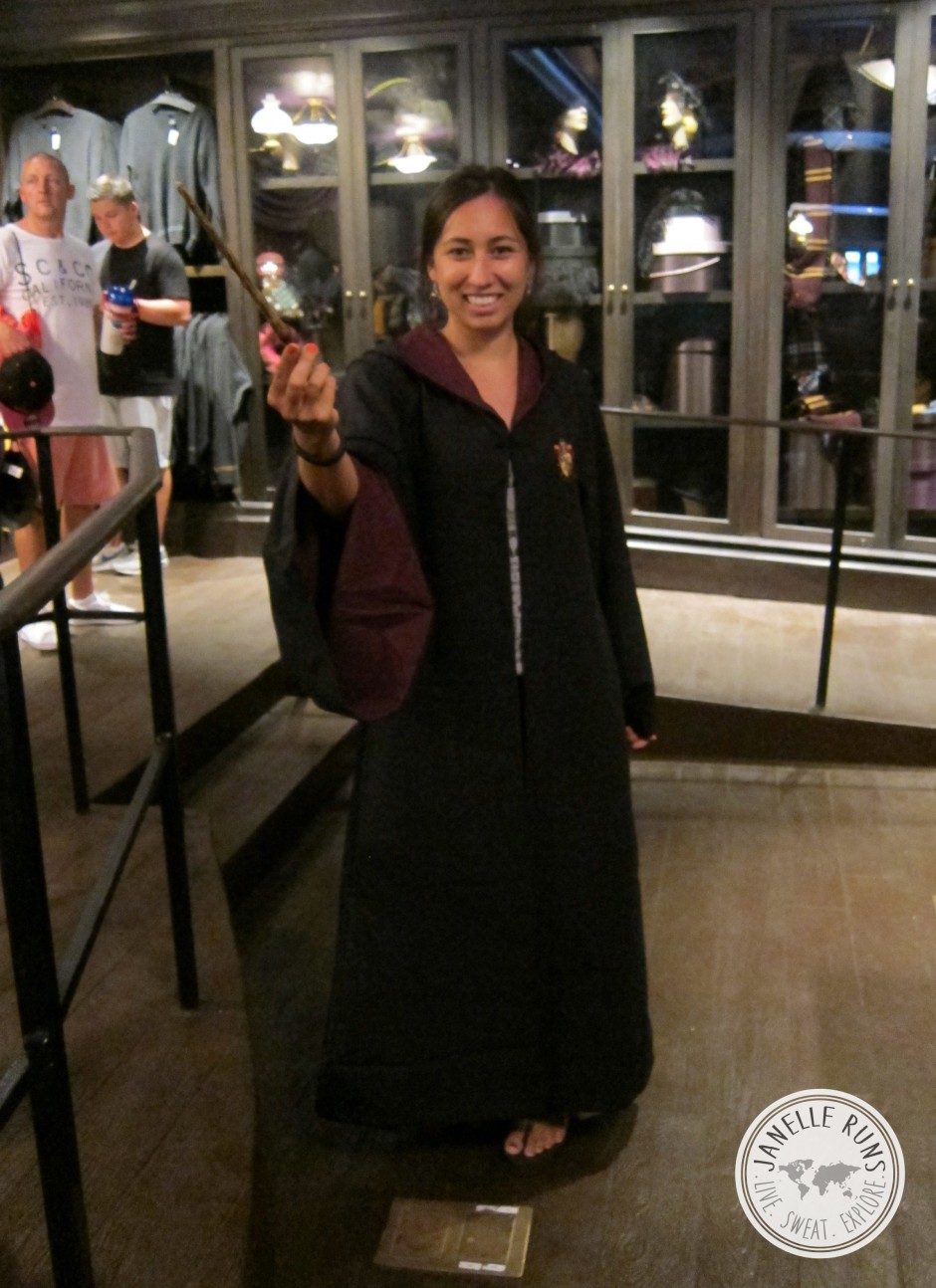 I was fitted for my Gryffindor robes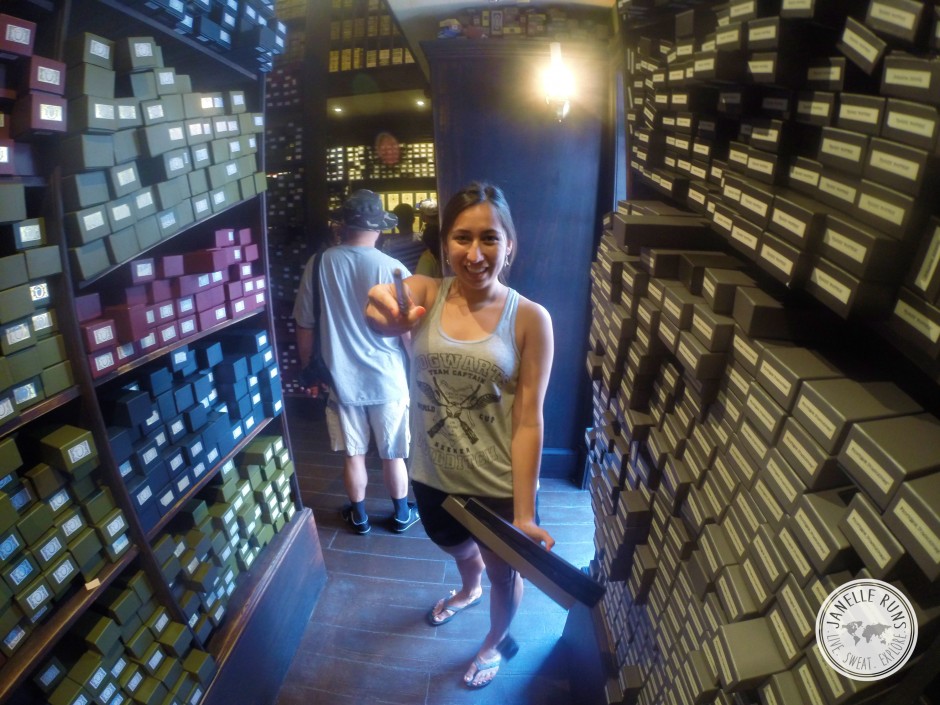 Went wand shopping at Ollivanders'
11:30ish: Lunch at the Leaky Cauldron
After a few hours of exploring, we decided to get lunch at the Leaky Cauldron. We ate and then get in line for the Escape from Gringotts (we read and we told that the lines are shortest after lunch). I have to admit it wasn't eating vegetarian here and I ended just ordering a few sides. Not the best meal I have ever had but who cares, I got to eat at the Leaky Cauldron:)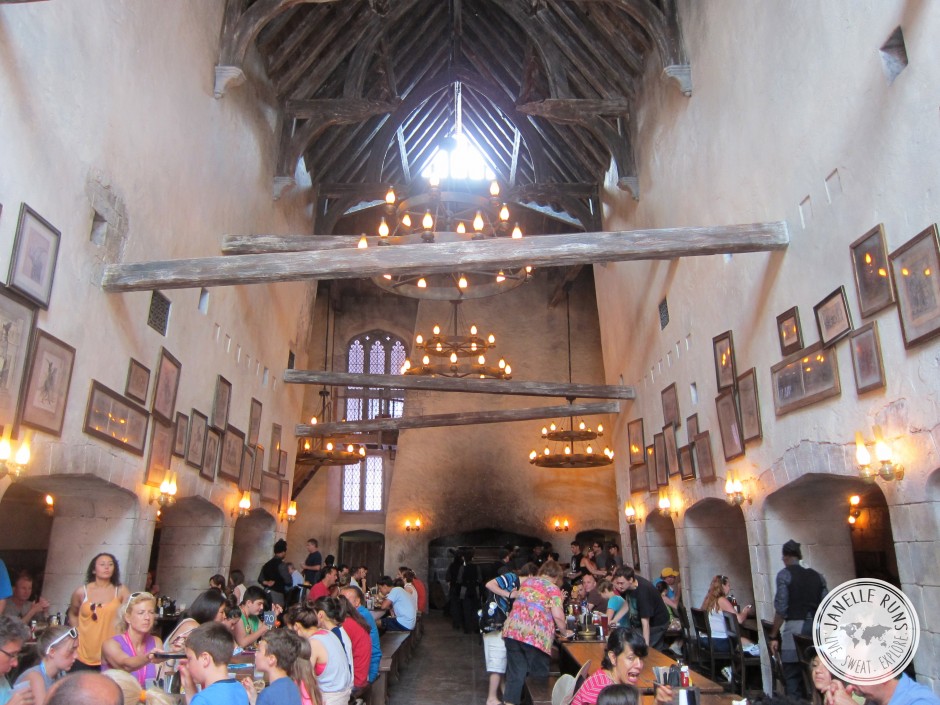 12-3ish: Harry Potter and the Escape from Gringotts
After lunch we got in line for Gringotts, by this time the wait from down to 150 minutes from 400 minutes. The line wasn't actually that bad, Kyle and David played games and I studied from a final exam (Yes, it was boring but it had to be done…). After waiting outside for nearly two hours, the line finally took us inside Gringotts Bank. The detail was simply incredible.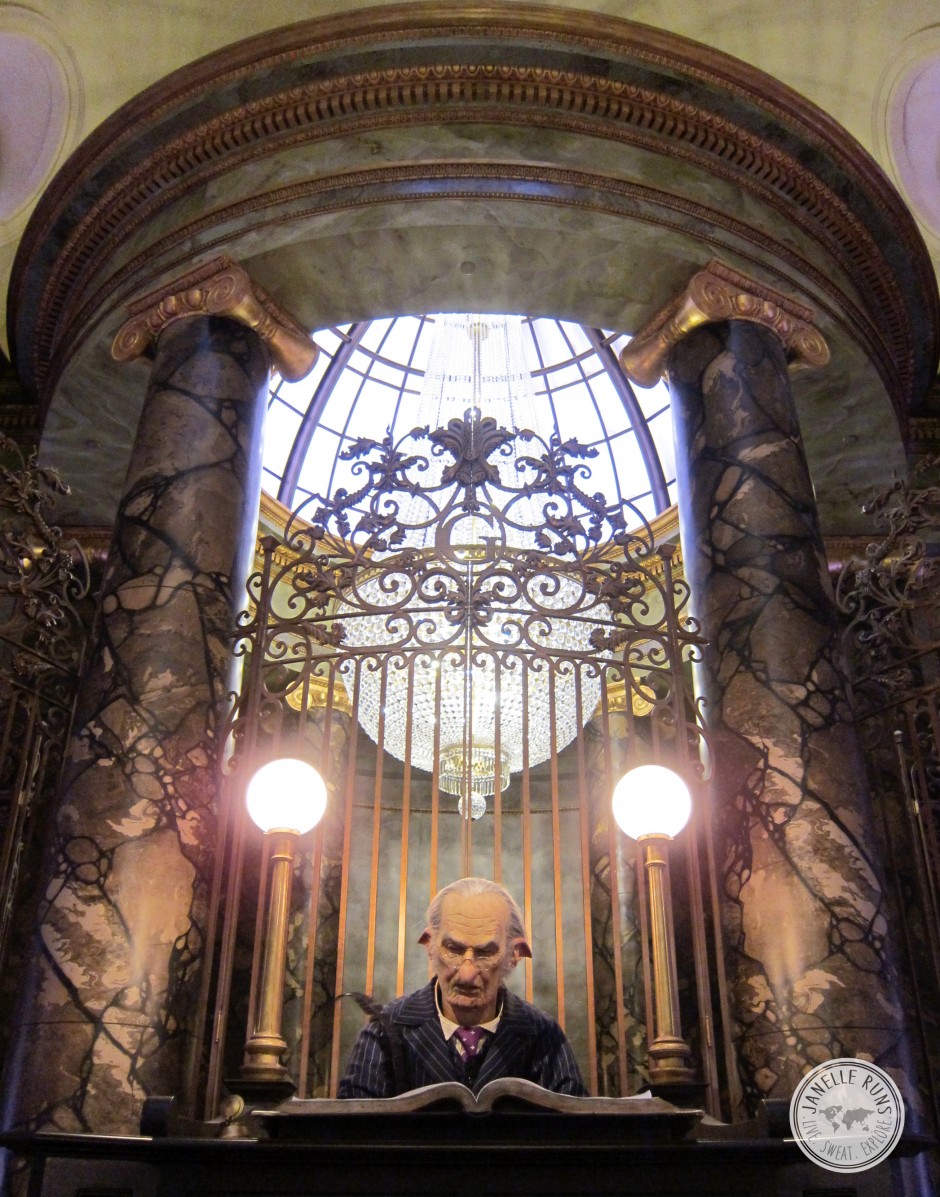 Once we got inside the bank we waited another hour or so. In total we waited almost three hours to experience the ride. All I can say is that it was totally worth it!! I would have definitely waited in line again, only the second time around I would do the single rider line (we didn't do it the first time because we wanted to see the bank).
3-6ish: Hogwarts Express and Hogsmeade
After a final walk through of Diagon Alley, we reluctantly got in line for the Hogwarts Express and returned to Hogsmeade. Each direction of the Hogwarts Express is a different journey, so make sure you ride it both to and from the Hogsmeade!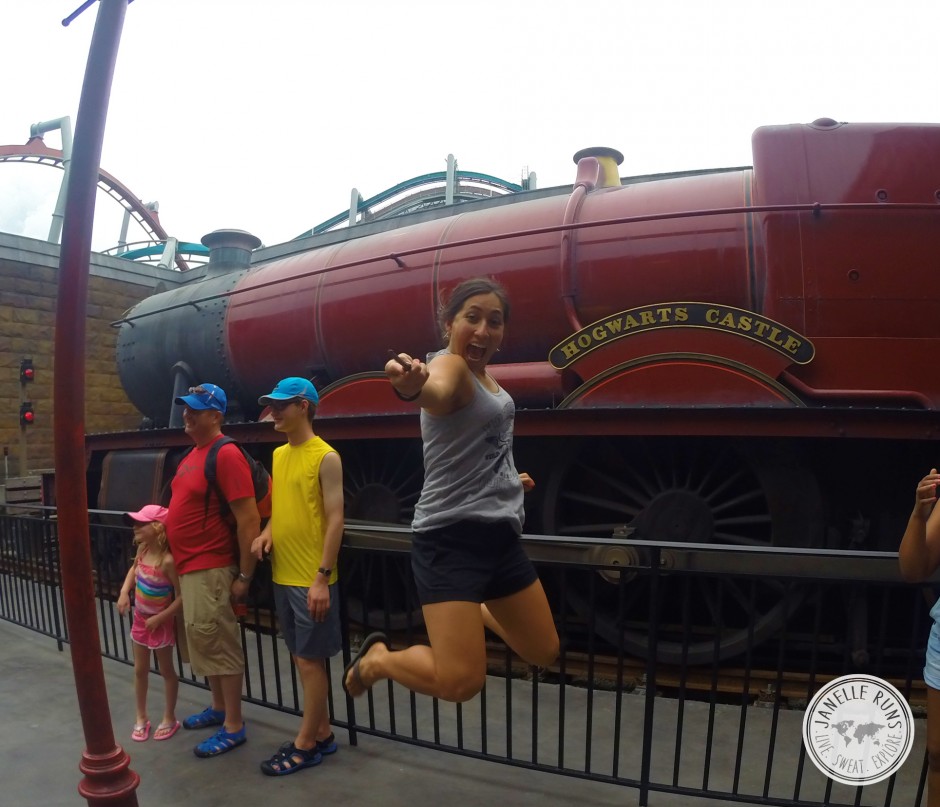 Of course I had to do a jumping photo with the Hogwarts Express
We sent the rest of the day wandering through the Hogsmeade's shops and riding the Harry Potter and the Forbidden Journey (note: if you get motion do not go on this ride!!!).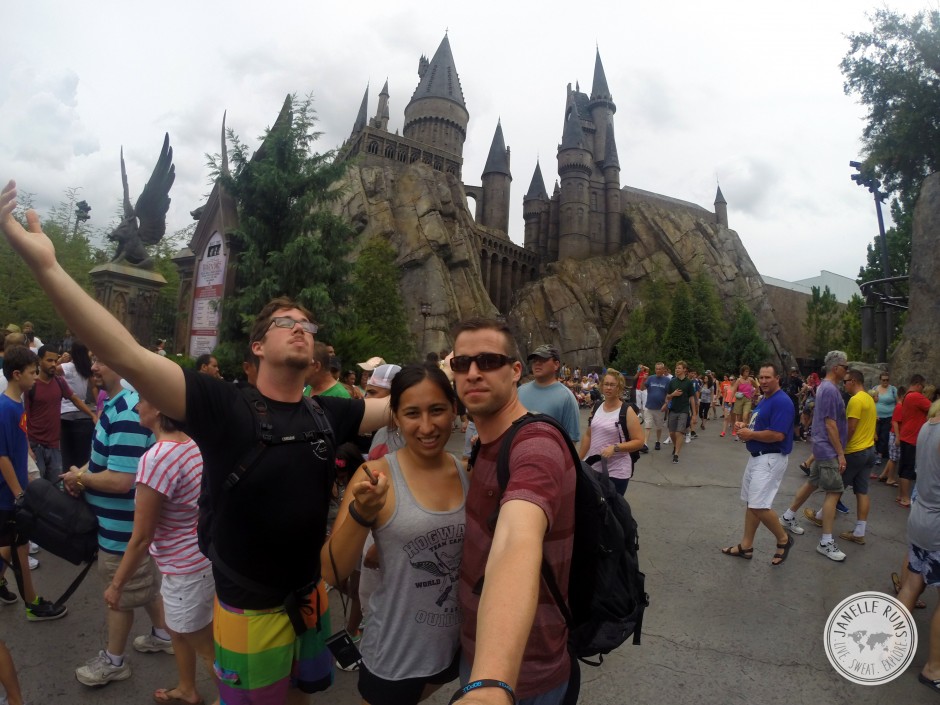 Just after six a huge thunderstorm hit and the park cleared out, including us (after going to Disney the day before, we were completely worn out). It was a magical day. The way it could have been better is if Universal had a Weasley's Wizards Wheezes firework show at the end of the day!