Wimbledon, the most hallowed grounds of tennis. The prestige. The history. The tradition. There's simply nothing else like it. And just like every tennis fan, it's been my dream to sit at Centre Court. And last summer, I finally got to check it off my bucket list!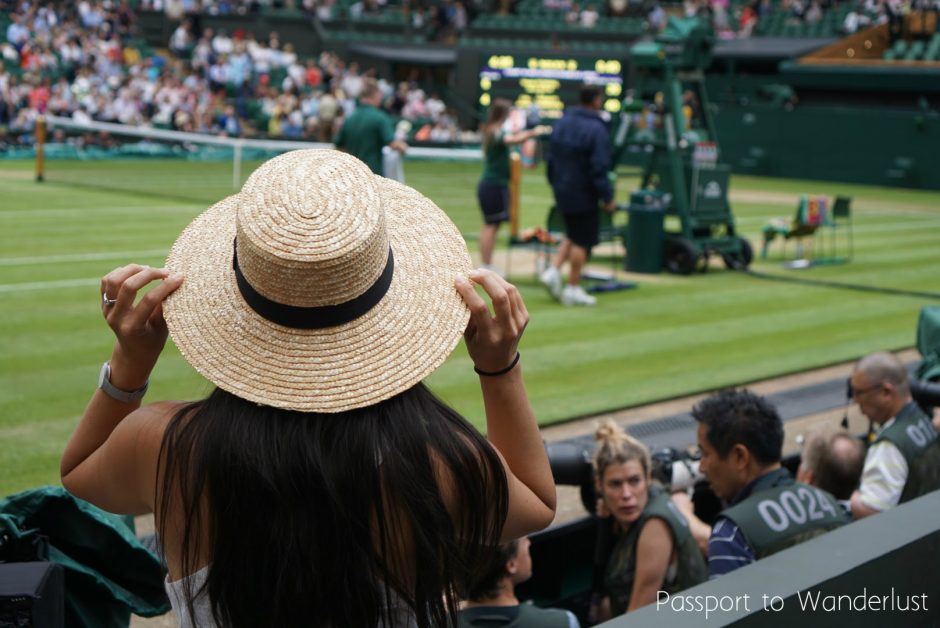 Gazing on Centre Court
Last summer, to celebrate our 5-year anniversary, Kyle and I planned a Europe Trip. Which was of course scheduled to align with The Championship. We weren't lucky enough to get tickets through the lottery so we opted to camp overnight in the famous Queue for the Round of 16 and the Quarterfinals. And then we planned on trying to get tickets to the semifinals and finals on Ticketmaster – – we were only successful with the semis.
Before leaving for London I searched and searched in vain for a comprehensive guide to The Queue. There were a few blogs here and there (and @ViewfromtheQ) that were helpful, but nothing that completely laid out the experience. So, just in time to start planning for this summer's tournament, here's the only guide to the Wimbledon Queue you'll ever need!
---
Your ultimate guide to the Wimbledon Queue & getting Centre Court tickets!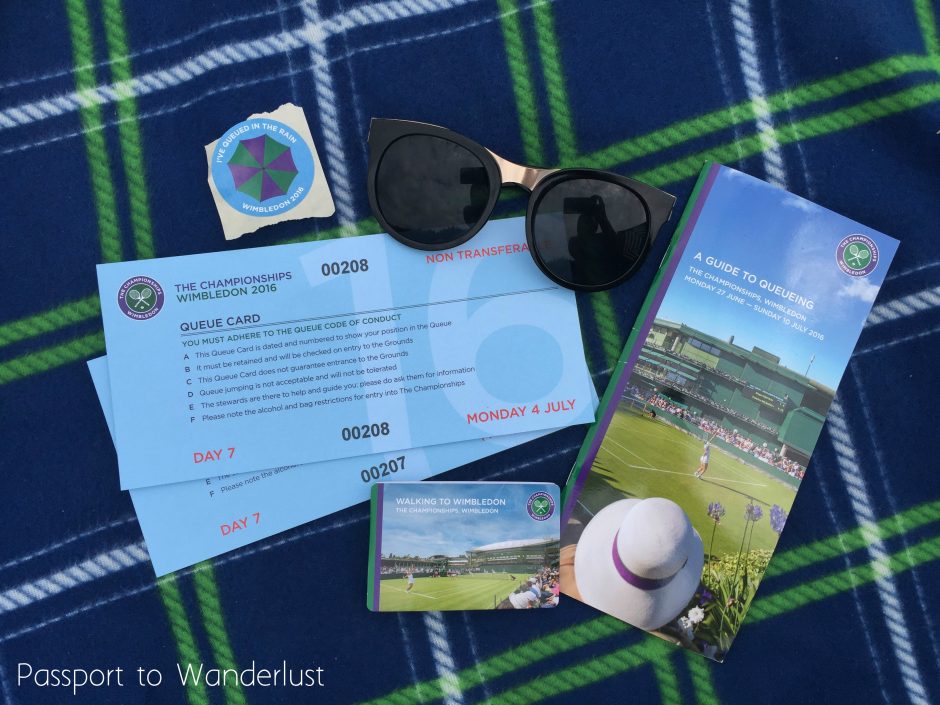 What you need:
First things first, let's talk about the necessities.
Cash – The Queue is cash only! Check prices ahead of time and double and triple check that you have enough.
A tent – And make sure it's waterproof. Thankfully we didn't get any rain but the week before we queued it poured! Since we were coming from Canada, we ordered one online and scheduled to pick it up at the Wimbledon Station Argos (just a taxi ride or tube stop away from The Queue).
Sleeping Mat – In an effort to save a few pounds, we tried to go without one. But after one night, I caved and bought an air mattress (also from the Wimbledon Station Argos). Thankfully, some kind queuers shared their air pump.
Sleeping bag – Same as the tent, I ordered this ahead of time from Argos and picked it up along with the tent.
Clothes + Toiletries – Depending on how long you stay (we were there for four nights and five days), you'll want some clean clothes and basic toiletries (+ flip flops for the shower).
Games & Activities – You're in line for a looooooooooong time, so it's a good idea to have some books, games, and other activities.
Snacks & Food – There are groceries stores and eateries near the park and one stop away at Wimbledon station, so you don't need to lug food to the camping grounds.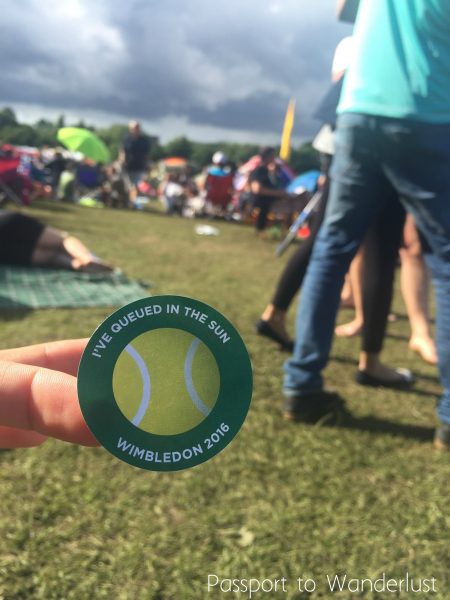 Proof that we queued in the sun 😉
Planning Your Arrival
Deciding when to arrive all depends on what your goal is…
If you want grounds passes – Show up the morning of. The earlier the better because once they've reached capacity, they'll only let people in as others leave. P.S. This guide is not really for you.
If you want show court tickets – Each day (through the Quarterfinals), there are 500 tickets available for each show court. This means that if you want Centre you need to be one of the first 500 people in line. Usually this means being in line at least 24 hours ahead of time. Here are our Queue arrival times…

For the Round of 16 (Second Monday) Centre Court tickets – We arrived Saturday morning around 7 am – – Our number ended up being in the low 200s, so we could have come a bit later. I think the last person to get Centre Court arrived early Saturday afternoon.
For the Men's Quarterfinals (second Wednesday) Centre Court tickets – We joined The Queue Monday night after the final Centre Court match. We just hopped back in line after watching Murray on Centre. I believe the last person to get Centre for Wednesday arrived early Tuesday morning.

Wimbledon Station
Getting to Wimbledon:
After gathering all your queuing gear and deciding what matches you'd like to attend, it's time to get over to Wimbledon. Don't worry, it's supppper easy to navigate your way.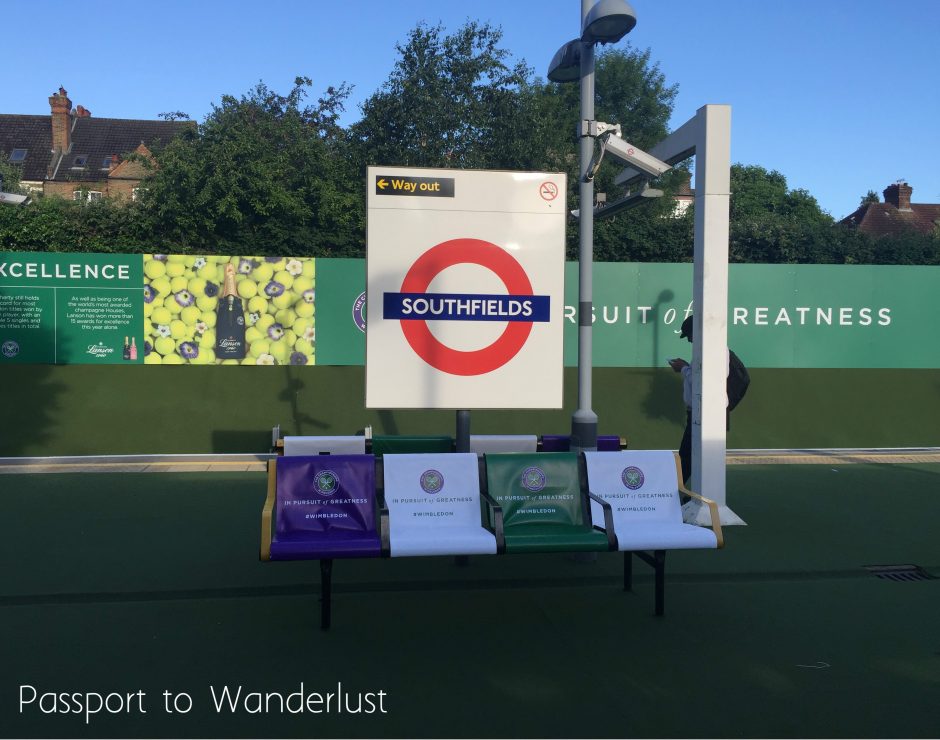 From central London, just jump on the District line going towards Wimbledon and ride on down to Southfields or Wimbledon Station.
If you get off at Southfields Station just follow the stream of people. And before arriving at the actual tennis grounds, you'll see signs on the ground, directing you to The Queue.
Or you can get off at Wimbledon Station and take a taxi to The Queue.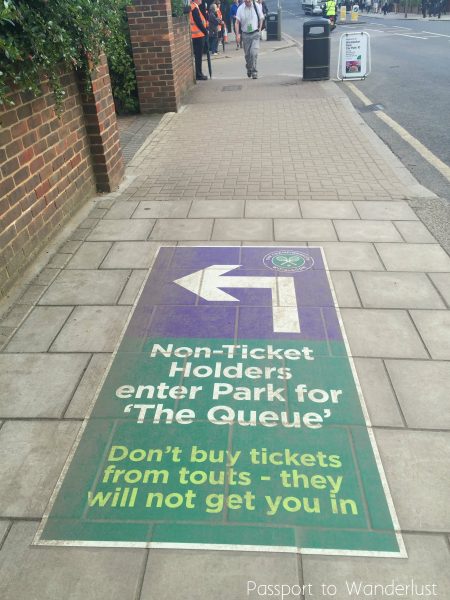 They really make it easy to find your way!
The Queue:
Once you enter the park, you'll follow the path through the barriers to an open field where the line is forming. When we got there on Saturday morning 7000+ people were already lining up. Don't worry about that number, most of the people are just there for a day grounds pass.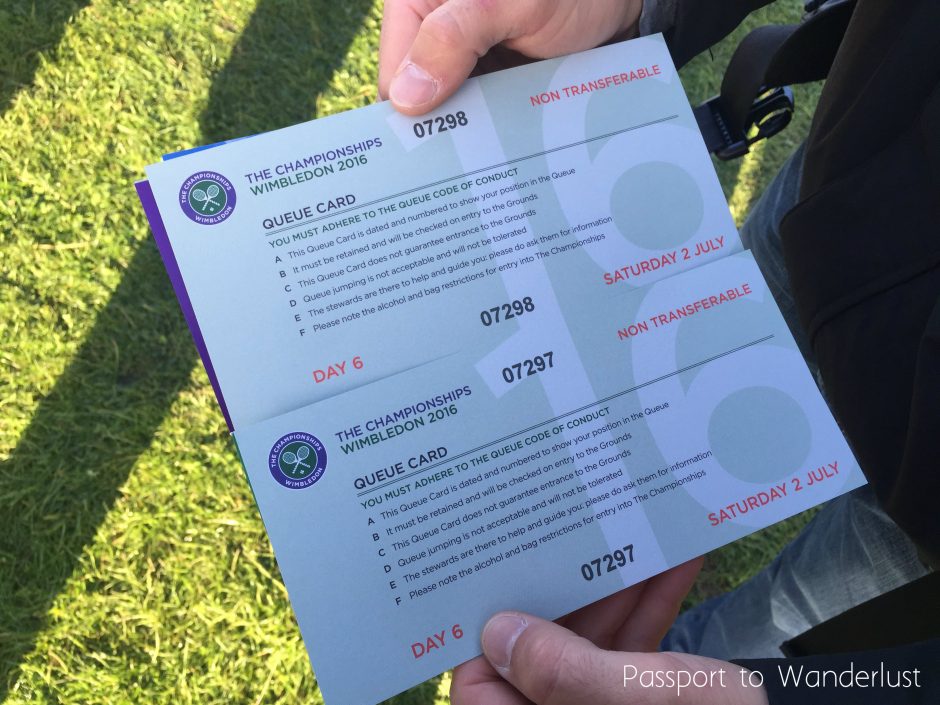 Our first Queue Cards – we arrived on Saturday but we were really getting in line for Monday
You'll just hang out in the mass of people for a bit. And as the morning progresses the stewards will start coming through line asking who is camping overnight for the next day. This is when they'll take you out of the mega queue and put you into a small queue. As you move to the smaller line, your Queue Card # will determine your place in the new line.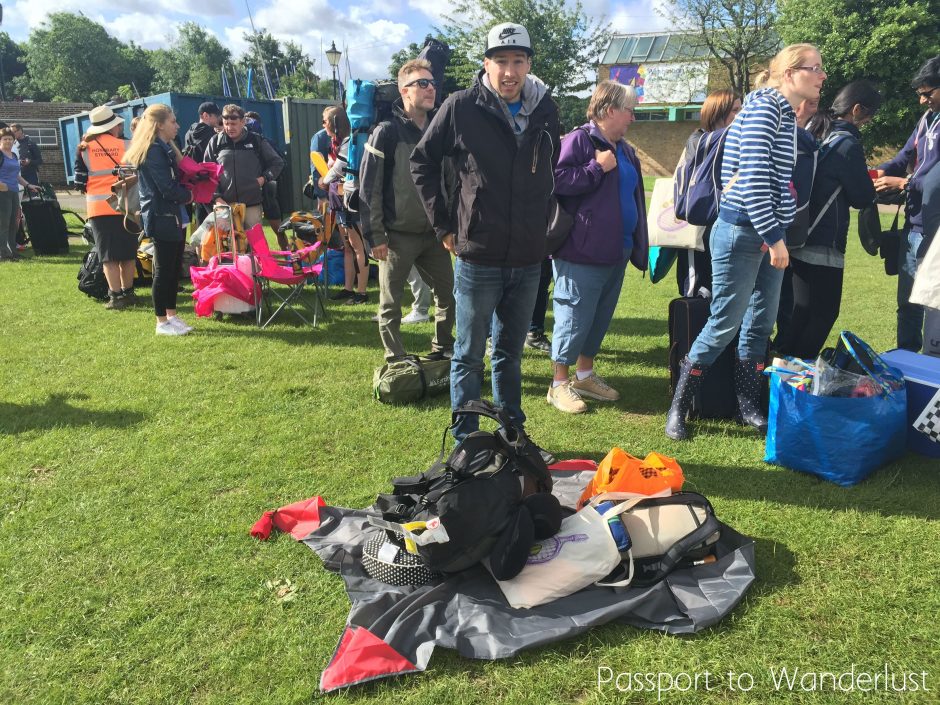 The second mini-Queue
In this next queue you'll wait some more. Yay! Slowly but surely, the sea of people will be moved into the tennis grounds and you'll be given a camping site. The whole process is incredibly organized. Just listen to the stewards and you will be good to go!
Camping Site
Once you've been given a home for the night (or two), it's time to set up shop. When we first got our spot, we didn't actually have our gear yet. So once we were settled into a spot and knew that it'd be okay to be gone for a big, I went to Argos and got our tent and sleeping bag.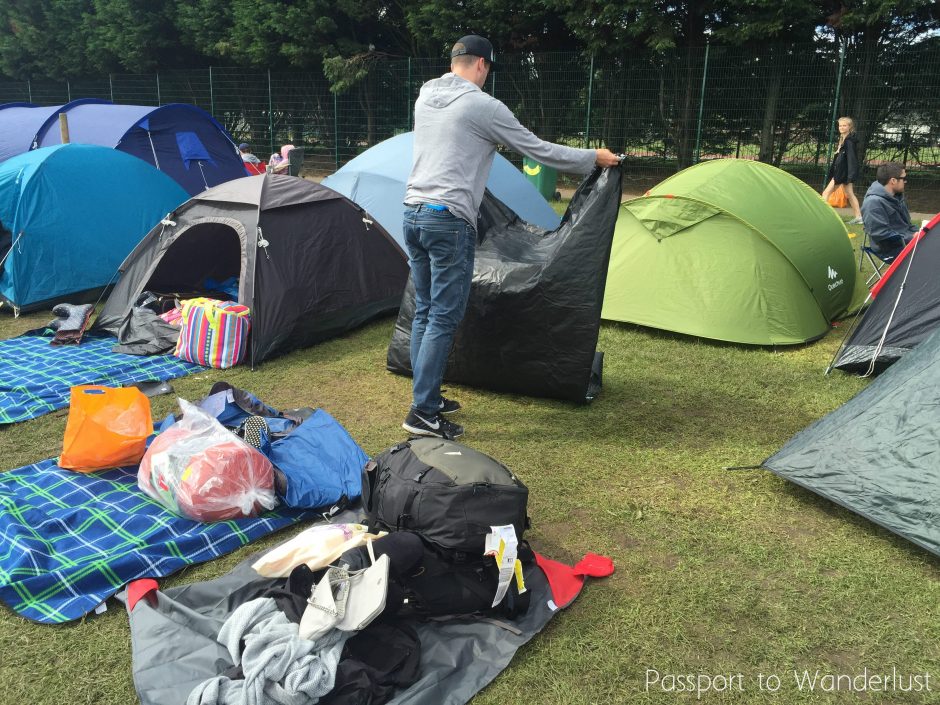 ***Pro tip: Buy the newspaper that comes with the Wimbledon inspired picnic blanket. I think it was £5. We used it everyday in The Queue, a few weeks later in Paris, and now it's always in Kyle's car ready for a day at the park!
After getting settled in and once the day queuers are gone, the stewards will come around and assign you a new number. Now, this is the important one – if you're below 500, you're guaranteed Centre Court! And because we got there so early, we were well below 500!!!
For the second day, when we first arrived we were 402 & 403. Then after people left the next morning, we bumped up to 272 & 273.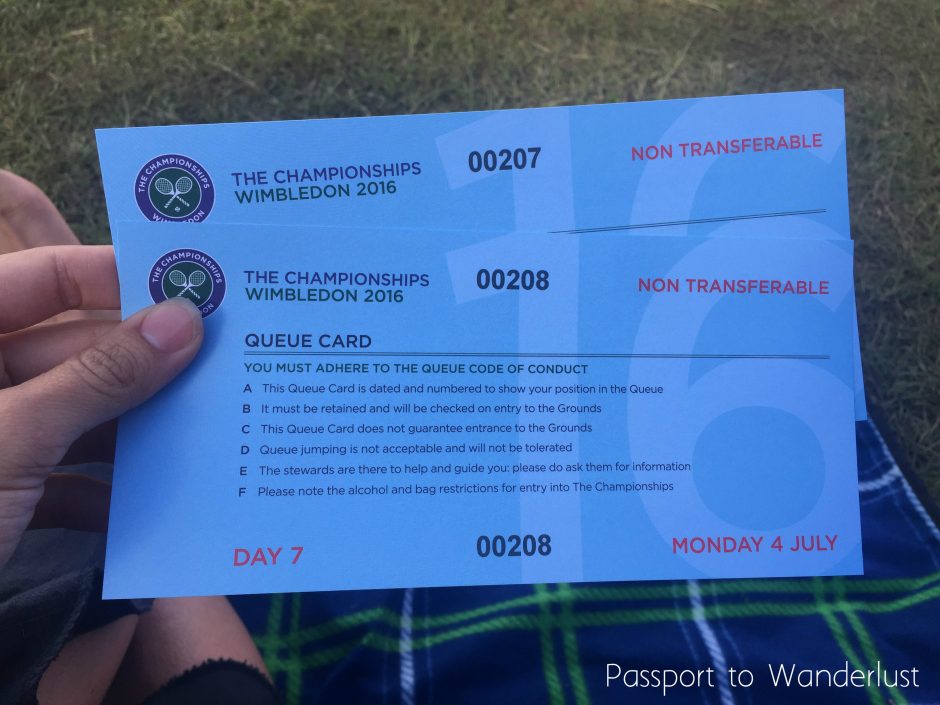 207 & 208!!!
A waiting game
There's a lot of waiting around in The Queue. But if you're lucky, like us, you'll get great neighbors. We chatted, played games, watched each other's stuff when we went to town to grab food and essentials. And just had fun enjoying the excitement of Wimbledon.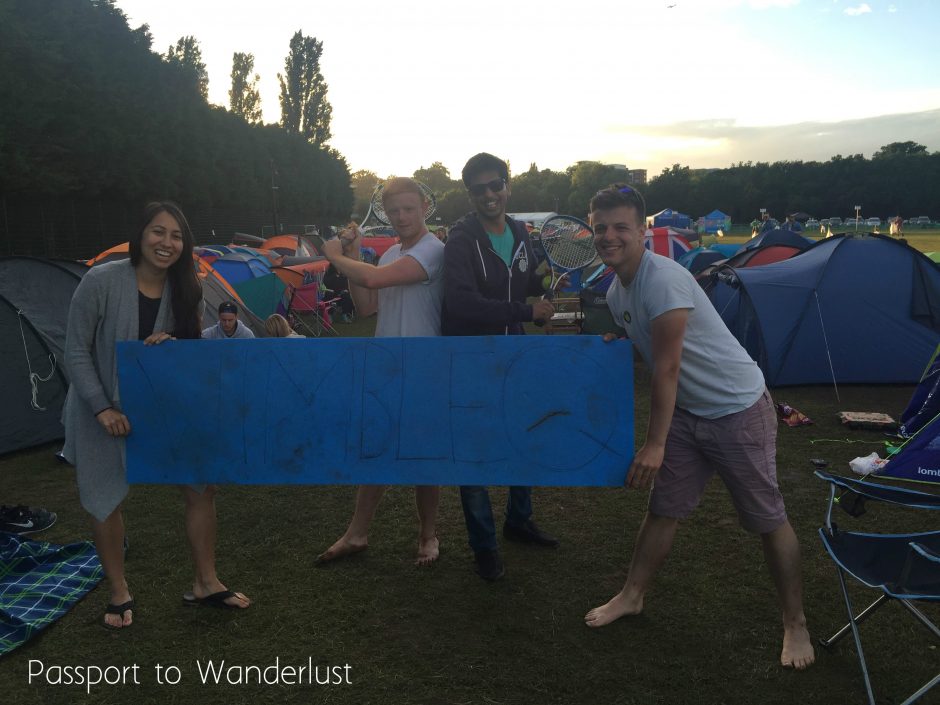 Playing a little lawn tennis with our Wimbledon neighbors
In the morning…
Nice and early the stewards will come wake everyone up. If it's the morning you're going into the matches, you'll need to:
Wake up, take down your tent, and pack
Put your stuff in the gear check – 5£ for tent and £1 for everything else – – I was worried they'd charge more for our big backpack but they just charged £5 for the tent and£1 for the backpack that had literally everything else strapped to it.
Get ready to wait some more
But if you're staying line another night, you can sleep for a bit longer until the stewards rearrange the line as people leave. Then you just pull your stuff over to your next home and let the waiting continue.
We spent a lot of time lounging just like this, actually it was quite relaxing
The moment you've been waiting for…
Match Day! Around 7 or so (with everything packed and in storage), the line will start moving. Be prepared to still be waiting as you move through the elaborate line. But since you're at the beginning of the line, it won't be long. As you get closer to the grounds, you'll be separated by court choice and given a wrist band according to your preference.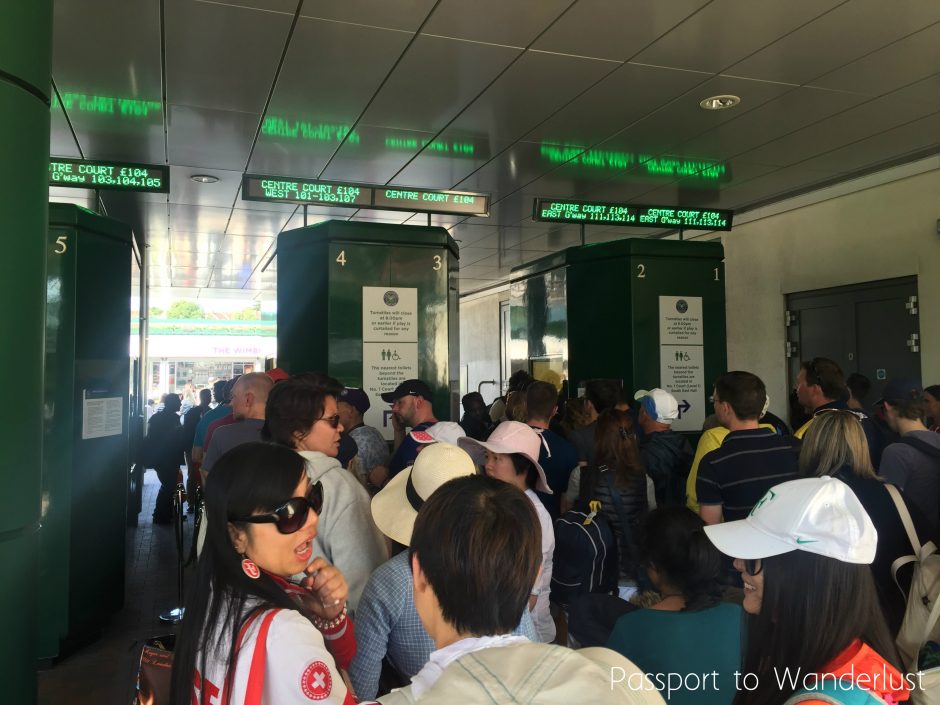 Don't stress to much if you don't get exactly want you want, all of the seats 10-15 rows of the court.
Around 9:30ish, we made it to the turnstile and purchased our tickets. Check the screens on top of the booth to see what sections they're selling tickets for. I didn't realize this at first and just jumped in the shortest line. We ended up just staying in the quick line and we were very happy with our seats.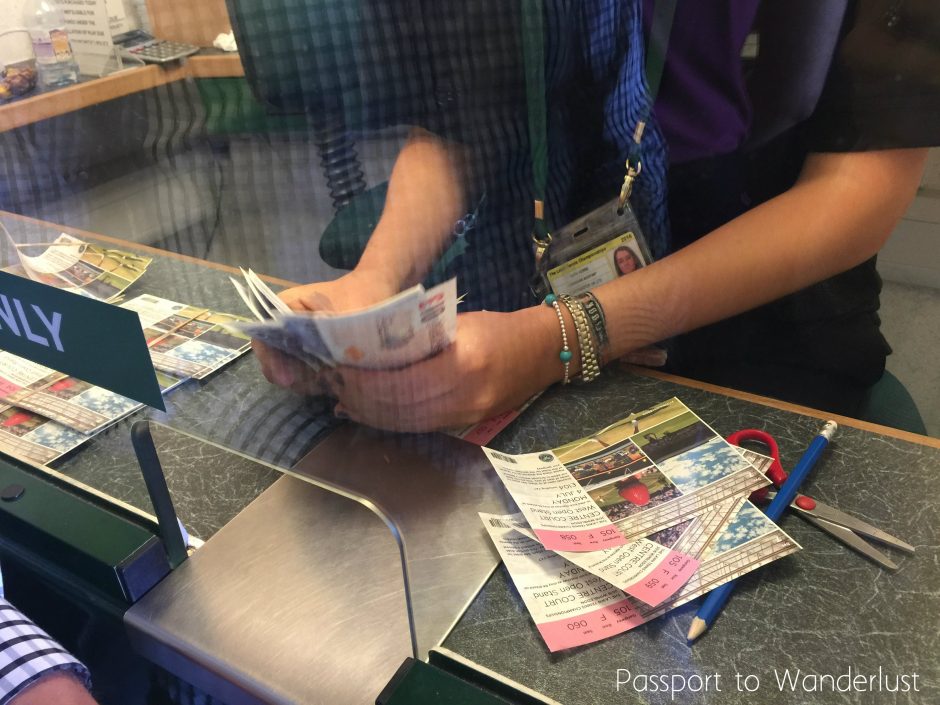 Remember, it's cash only!
All you gotta do is hand over the cash and you're in! Wimbledon Centre Court and all its glory awaits!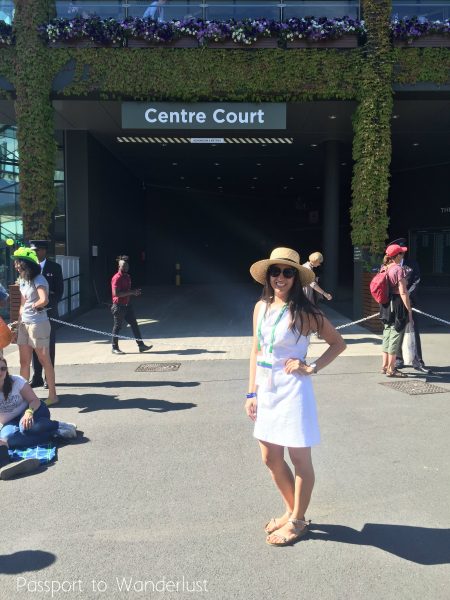 Once you're in, there's still more waiting since Centre Court matches start later in the day. But that's alright, more time to explore. We stopped by the practice courts, grabbed some strawberries and cream (it was yum but save some money and bring your own – – the second day we just bought our own from Tesco), and checked out the outer courts.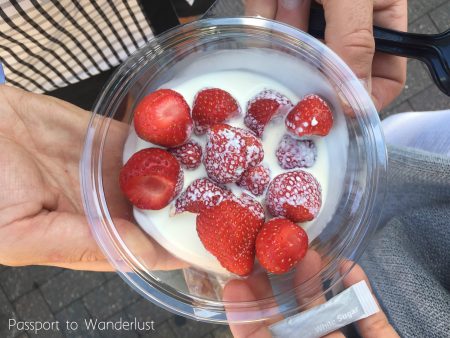 A Wimbledon Tradition
Match Time!
Finally the moment we'd been waiting for, sitting Centre Court at Wimbledon watching the greatest players in the world. On day one, we watched Federer v. Johnson, Serena v. Kuznetsova, and Murray v. Kyrgios. On day two, we watched Federer v. Cilic and Murray v. Tsonga. Day two was amazing with two five setters!
When the matches were over, time to get back in The Queue and do it all over again:) ***If you leave before play ends, make sure to get your ticket scanned so someone in the resell line can buy your seat on a show court.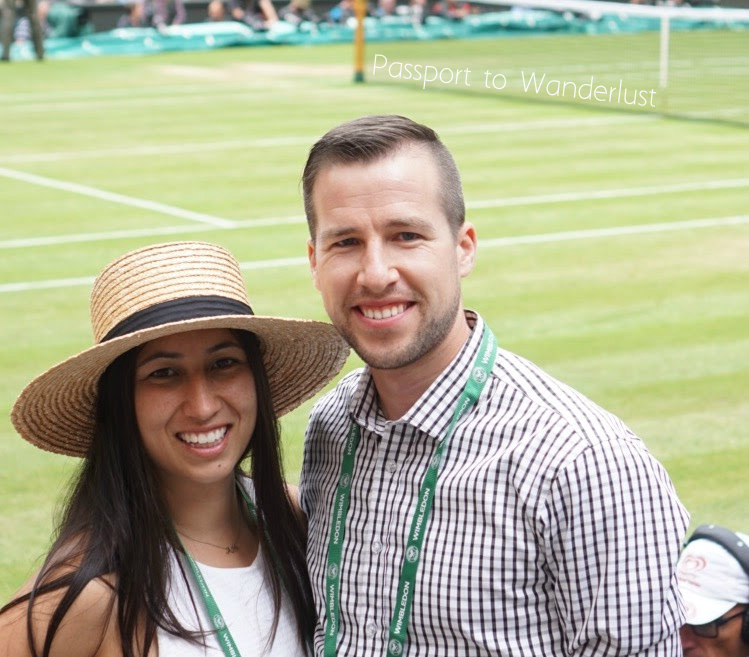 Centre Court and all its glory
Final Thoughts…
The Queue is really something special. I mean how many other sporting events can you basically sit court side for less than $200 and get tickets the day of! What an adventure! And definitely worth queuing for four nights!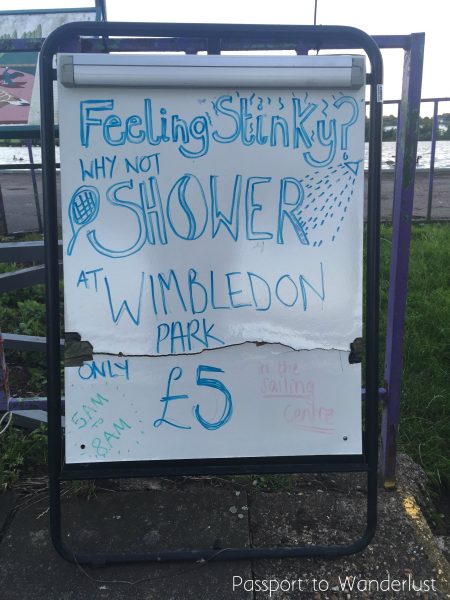 Important questions about the Wimbledon Queue I searched the Internet for but found no answers…
Are there showers??? – This was my #1 question! I needed to know if I could take a shower before stepping in to the most hallowed (and posh) grounds of tennis. And the answer is, YES! There are showers. There are actually a few options:

The Boathouse £5 – There is a little boathouse in the park. And each morning, they open up the showers. It's not free but it's worth it. Just get there early so there's hot water. There's also a changing room, if you want to do your hair and makeup.
A gym – I opted for the boathouse but a fellow queuer just bought a one day membership to a local gym and took a shower there. I think it was between £5-10.
Where am I going to eat? – Since we camped out for four nights, we got a good idea of the eating options. Within walking distance you can find all of the traditional options – burgers, fish and chips, pizza, asian, etc… for a decent price. But we actually ended getting most of our food from Tesco Express & Marks and Spencer by the Southfields and Wimbledon Stations, both for in The Queue and the matches.
Can I leave my tent? – Yes, you can. But not for long periods of time. And I wouldn't do it before making friends with your neighbors. They'll keep and eye on your tent and let the stewards know where you went if they come by to do a check (yes, they check to see if you stay in line. There were a few people near us that got kicked out for not actually spending enough time in the line.).
Is it safe? – I felt perfectly safe there. It's well lit at night and they're cameras catching everything.
Can I take outside food into Wimbledon? – Yes!!! You can take a full on picnic, including your own alcohol. Check the most updated visitor's guide to see exactly what's allowed.
How expensive is food inside Wimbledon? – Since we brought grocery store snacks in, we didn't purchase much within the tennis grounds. But here are a some prices for the affordable Wimbledon food options:

Alcohol – £2.40 – £20.00
Burger and fries – £8.30
Burrito – £8
Soda – £2.5
Strawberries & Cream – £2.5
What about Ticketmaster? – Another way to get tickets to the show courts is on Ticketmaster. Two days before each match, they release some return tickets. And then the day before each match, they release a reserved set of tickets for each show court. We were lucky enough to get tickets to the semifinals this way! Make sure you're on your computer a little bit before they're released. And it wouldn't hurt to have Ticketmaster open on all your devices because it's really just the luck of the draw!
Is it worth it? – 100% yes! If you are a tennis fan or even just a sports fan in general, it's worth it! Especially if you can go with a group of friends! Then it's just like a camping trip but with a much better reward;)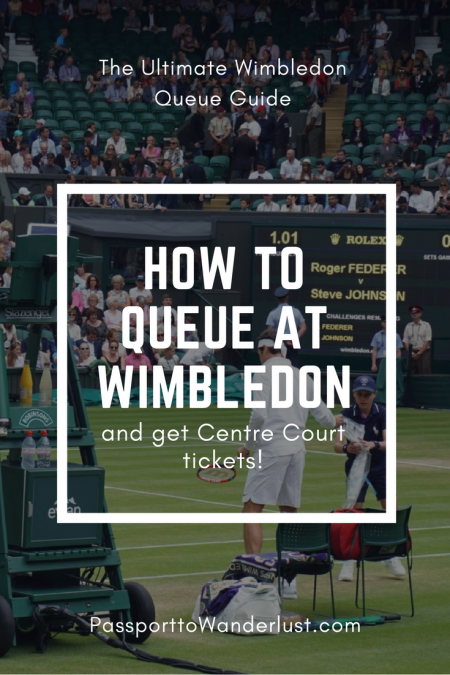 ---